Sadiq Mustapha, a Nigerian documentary photographer, has long been aware of the inadequate infrastructure and conducive learning conditions of schools in Central Nigeria's Niger State.
However, he wasn't motivated to document these issues until one day when he encountered the plight of students at Umaru Bago Primary School in the Badegi district of Lapai Local Government Area of the Niger State.
"It was saddening to learn that the students there were having classes outside under a tree," Mustapha said. "I went to the Headmaster and asked him why the students were learning in such a condition. He told me that it was due to a shortage of classrooms. He also said that there are students who are learning inside a classroom, but they are sitting on the floor barefooted."
Lack of access to desks and even other learning materials is a bane in Nigeria's educational sector. In 2022, the Universal Education Board or UBEC, said 50% of schools in Africa's largest democracy lack the furniture necessary for conducive learning.
Mustapha wanted to change that, and he started by documenting the situation at Umaru Bago Primary School, from students receiving lessons under a tree to those inside classrooms sitting on the floor without shoes during lessons.
He then visited Etsu Bawa Primary School, where not a single desk was found, forcing students to sit on the floor daily. At Central Primary School, Mustapha found that while most of the school had chairs, a portion didn't.
"What inspired my documentation of the conditions of schools in Lapai was that if each school in the Lapai metropolis, which is the headquarters of the Lapai Local Government Area, could be in such a terrible situation, then what about others in rural communities? What would be their conditions? I felt that the power of photography could spark some changes in the lives of these students," Mustapha told Prime Progress.
Following the documentation, Mustapha decided to post the pictures across his social media handles in August 2023, where it attracted engagements and then some non-profit organisations reached out to him, wanting to intervene.
"Out of the numerous ones that reached out to me, it's only two that were able to donate chairs, desks, and writing materials, which are the Danjuma Bello Foundation and the Ododo Foundation," Mustapha said.
A foundation stepped in to help
In 2019, while Ododo Sheriff, a native of Nigeria's Kogi State but raised in Ikeja, Lagos, was about to complete his undergraduate degree in Computer Science and Education from the Ibrahim Badamasi Babangida University, Lapai, he teamed up with his friends to establish the Ododo Foundation, a non-profit organisation dedicated to improving the lives of children and the less privileged.
"I grew up with a passion for humanitarian aid and I'm much interested in reaching out and supporting the less-privileged people. Our first outreach as a foundation was at the Muhammad Juaro Secondary School Lapai where we created awareness among the students on shunning drug abuse. Since then, we have been doing lots of work," Sheriff highlighted.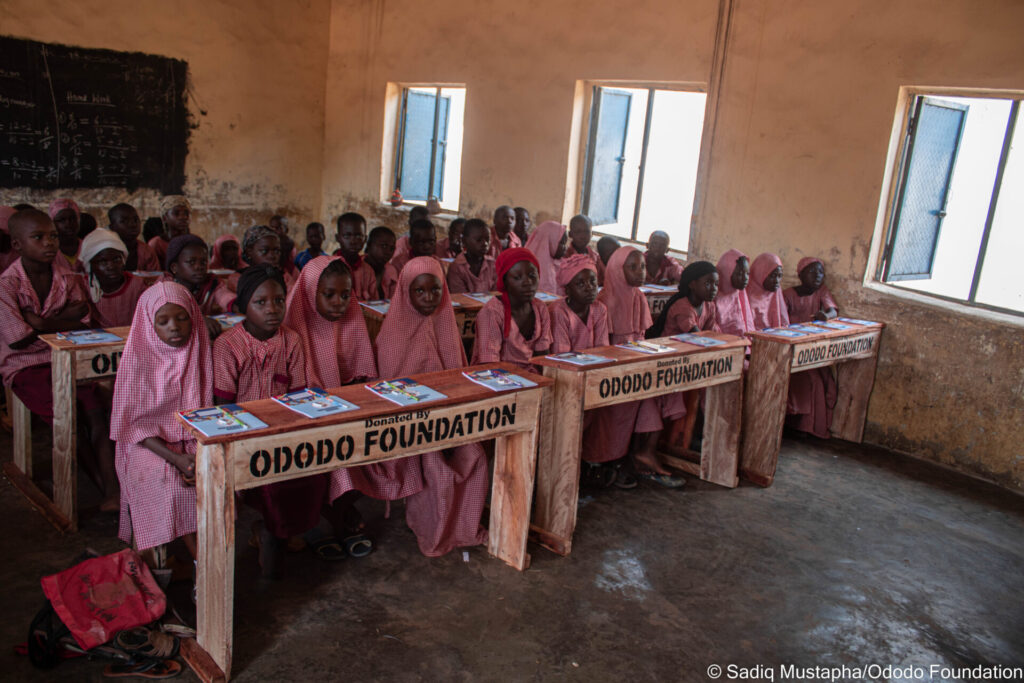 Even after graduating from university, Sheriff continued his humanitarian efforts, including providing food to less privileged Muslims during the month of Ramadan.
"When I go out to do these things, the smiles I get from people are encouraging. It makes me want to do more. It will amaze you to know that we carry out these projects through self-funding," Sheriff said.
On that day, when Mustapha shared the documented photos of the schools on Twitter or X, Sheriff saw them and he became worried. So he reached out to Mustapha, inquiring about the basic things needed to at least make the students comfortable.
"After finding out, I raised some money, which I sent to him, and he used it to provide chairs, desks, and writing materials to the students," Sheriff expressed.
Sheriff also felt that it could put a smile on the student's faces. "I'm glad that we were able to help despite not all of them being able to get the chairs, desks, and writing materials. We are still trying to see it reach them all," he shared with Prime Progress.
Even More
Another native of Kogi State, Hidayah Bello, also initiated the Danjuma Bello Foundation in 2018 but officially started activities in 2022 with the mission of eradicating poverty and making a difference in the lives of people.
Through the years, the foundation has carried out several projects, including feeding the needy and outreaches, visiting orphanages, clearing medical bills for those on admission to the hospital, and paying school fees for less-privileged children.
As Danjuma Bello Foundation is always looking out for posts on social media that seek support for individuals or communities to thrive, and that's how they got to know about the condition of schools in Lapai.
"We saw Sadiq's post on Twitter (X), and it caught our attention. And we felt the need for immediate action to help the pupils have a conducive learning environment. Apart from the provisions of chairs and desks, we plan to renovate at least 8 classrooms, and this will run until March 2024. We are hoping to get more funding support to help us continue as we planned," Bello explained to Prime Progress.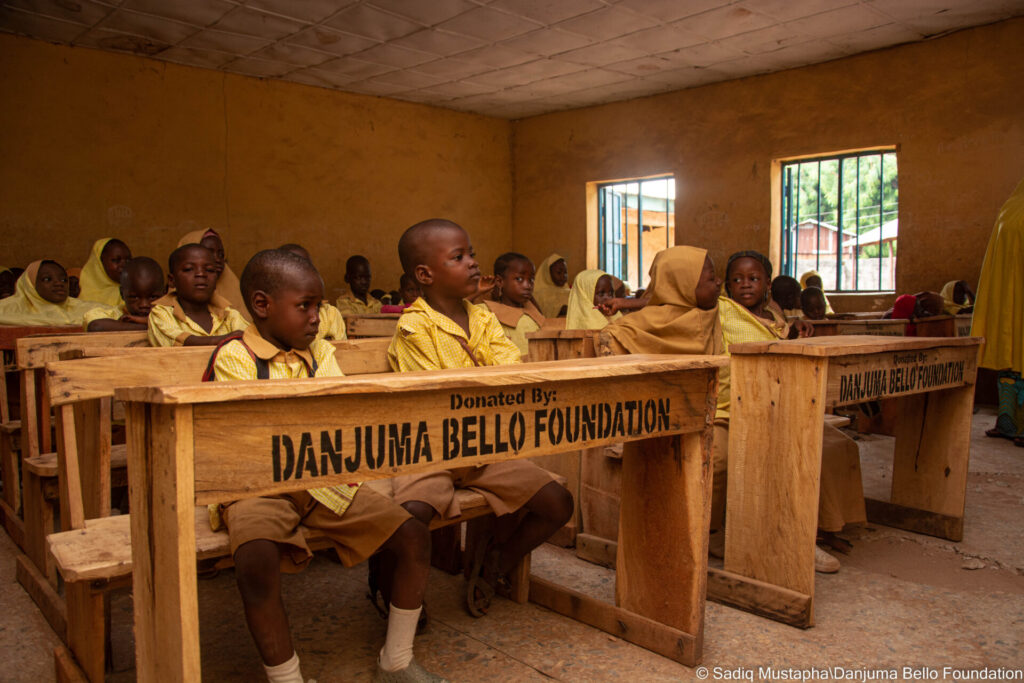 It helped
Yahaya Muhammed is the head teacher at Umaru Bago Primary School, and he said that the intervention from the Ododo Foundation came at the right time.
"Our students used to sit on the floor and write on their laps, which have been affecting their learning process. But with this intervention, our students now have where to sit and write while they experience a comfortable learning environment. So we appreciate the opportunity," Muhammed told Prime Progress.
Muhammed also demanded that they still need more because the donation was only for a single class, and there are other classes without a conducive atmosphere for learning.
According to Sheriff, inadequate funding and poor collaborations are still some of the challenges that limit the activities of the foundation, but he is hoping to make it a source of happiness to many people on the street and the less-privileged ones in underserved communities.
"I also wish to open a school whereby students will come and learn for free. Give them access to basic and quality education where they can grow to be great people in the future. I hope it's easier for me to achieve this," Sheriff stressed.
While Mustapha is looking forward to seeing more help come to the students, he is also excited about the power of his photography that leads to the provision of chairs, desks, and writing materials to these students.
"For some of these students, it's their first time sitting on a chair and desk while classes are ongoing. Sadly, the government leaves our education in such a bad state," Mustapha concluded.