By Rejoice Taddy
Staying in Nigeria's federal capital has not insulated Salma Mansur from the economic hardship that has bedevilled the continent's most populated nation and leading to  her community's daily cry for help.
Nigeria's headline inflation has risen to 26.72%,  according to the National Bureau of Statistics or NBS, partly spurred by the announcement of the removal of petrol subsidy in late May. 
"All I want is security. With all that happens in Nigeria today, we all crave to be secure. Not just by having security personnel walking around us with guns, but by providing the basic necessities of life that I know would not cost the government so much to make them come alive," said Salma Mansur.
Mansur stares at her empty shop with a feeling of despair. The business she has held onto is now crumbling. Going back through time, she has seen how her enthusiasm for the country's growth has deflated because, according to her, "things keep getting worse."
"I was born in the '70s and have been a part of multiple interviews that have been like a contrail pattern for me to see how much the problems of an average and poor Nigerian are ever increasing," she explained, her face smothered with melancholy.
Mansur is a community member of Kpaduma 3, an indigenous community in Abuja. She is a businesswoman who sells food items and uses her earnings to send her children to school. But has become challenging for her.
Her situation is made worse by the lack of amenities in her community. 
"This community has a terrible structure that favours no one. Not even the chief and his officials benefit from any reasonable thing. We have no schools, healthcare centres, stable electricity, water, or good roads. So, imagine how we use what we earn to get these things from places outside the community," she told Prime Progress.
Mansur is especially sad that the disadvantage of the community is slowly tampering with the morals of the young ones, as most of them engage in vices that negatively impact their lives and the serenity of the community at large.
"I am scared for myself and my children because I know this place is unsafe. Here, you will find a teenager of 15 years smoking and has the guts to harass his peers and even adults, not just at night, but also when the brightness of the day shows each person's identity," she said with a sound of anger in her voice.
The businesswoman believes that there is a link between government negligence and the insecurity that plagues the area. 
A Graduate's Take and a Barber's Feel
While Mansur and other parents worry about the future of their young children, there are other young members of the community who feel the responsibility to set a pace for change but are uncertain about what the present and future hold for them.
"I was born and raised in this community, but to this day, I don't see how this community has changed. As a graduate, I still haven't gotten a job that will help me fend for myself and my family. Just like me, the young people here are so attached to home that they would love to come back and share their knowledge with others, but there are no schools available for it to be made possible," said Daniel David.
David is concerned about the leadership style that governs the entire community, especially how the Abuja Municipal Area Council or AMAC handles affairs.
"When we lay complaints about certain needs in our community, the council does not respond to us, and that is why everything keeps getting worse. But unlike us, indigenous communities around Kuje and Gwagwalada get more attention," he told Prime Progress.
David said he has seen how the bad roads in the community have caused accidents that have resulted in fatal injuries and near-death experiences.
"It breaks my heart when I wake up to see that the main entry to the community has no good road. This makes me feel like the government does not know about our existence. But, quite contrary to this, I am positive that they are aware, but none of our pleas have been responded to," David added.
Felix Simon, another youth in the community, barbers for a living and has chosen to strive hard for survival because complaining over the current problems the community has will not change a thing about his situation.
"As a barber, I also get my share of the challenges of the community. The bad road does not let me get customers from afar. I also find it hard to get customers these days because of the fuel hike and the absence of electricity that would suffice," he said.
Simon has siblings he is responsible for because his parents are incapable of helping, as they also look up to him for financial assistance. It is not easy for him.
"2023 has been a very tough year so far. Even before the increase in fuel price, this community has always had its downsides, and with its arrival, my life has just been extremely difficult. I have to pay for the school fees of my younger ones, who attend a government school in Karu Local Government," Simon said, giving a sigh.
The 27-year-old gave up on his education because he had to focus on training his siblings and fending for the entire family. It's a thing he is happy about.
"We need help," the chief says
Yusuf Dio, the Chief of Kpaduma 3, said the community needs help, as they feel abandoned. 
"Being a chief in Abuja is very difficult. I, together with other heads in different communities, are always on the go for a general meeting. We are always discussing how we will work towards changing the narrative, but it feels like we are stuck in an unending circle with no reasonable results," he said.
Dio is not satisfied with seeing that the only thing done successfully is the succession process of chiefs. This, to him, is "like a total waste of time and effort" since the expected changes are not felt.
"This whole challenge is not any chief's fault, and since we don't get help from the government, some of us have to use our personal funds to help in any way we can so the people can at least have a sense of hope," he added.
The chief said that so many communities in Abuja share similar challenges, like the absence of water sources, health facilities, schools, good roads, and other important social amenities.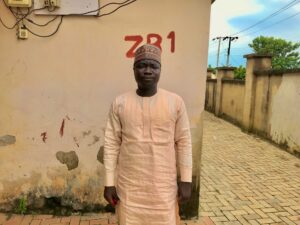 He also said that some organizations in the past have promised to assist, especially with water, but they did not see any result. Dio chooses to keep helping and fighting for his community until the government hears them out.
"From what I have observed over time, Abuja is not designed for the poor, and with no intention to deter from my efforts to work hard for change as the representative of the community, I still lean toward the belief that concern, care, and help may not come anytime soon, but we will keep pushing," he said.