When Elijah Idikwu boarded a bus from Otukpo, a town in Benue State, to Abuja on October 16, 2023, he didn't know he was going to be part of a cycle of kindness that would start from his driver.
His driver, Mr Benjamin Agada, was kind and extended hands of fellowship to his passengers.
Idikwu recounted that the driver started the journey by telling them to call him Mr Ben. This was in a bid to lighten the journey that would last for about three to four hours.
"He addressed us like a pilot would and apologized for carrying a lot of luggage. He told us to be free to correct him if he was driving too fast or wrongly. He assured us that he was going to stop for us to eat if any of us was hungry," Idikwu said,  as it is rare to see drivers of such on unfriendly Nigerian roads.
The passengers, who felt fortunate to be travelling with a nice driver, were stunned by his next act.
Into the journey, Agada parked the vehicle to purchase snacks and water for his passengers. 
Everyone on the bus was stunned. They weren't used to such gestures from Nigerian drivers.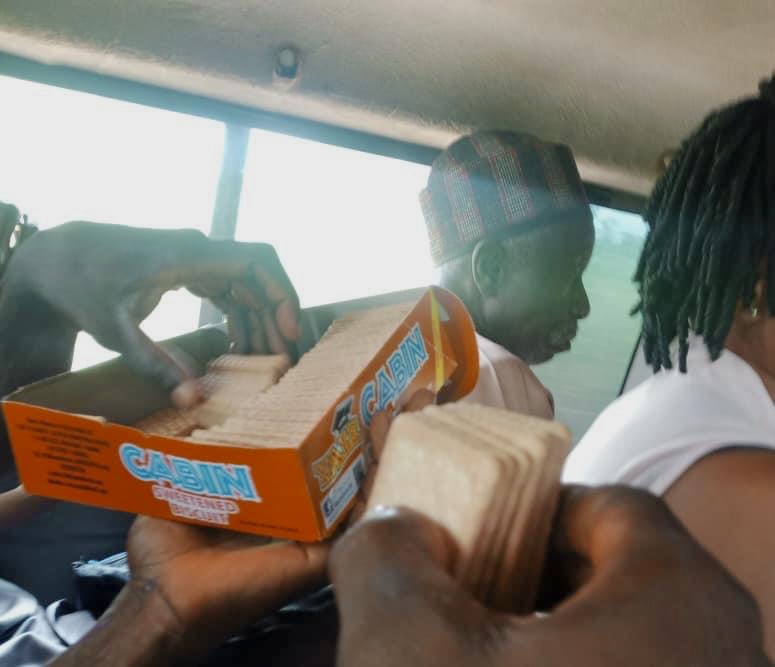 "I was shocked when he did that. It was different from the attitude other drivers display," He told Prime Progress, adding that: "other drivers had misbehaved; so angry and annoying, but Mr Ben was different. I was amazed,"
Idikwu claimed that other passengers started commending Agada on the Bus. Their shocked countenance had slowly transitioned to joy. Thereby setting the tone for a smooth ride to the nation's capital, Abuja. 
Idikwu took pictures of the moment. 
That evening, after arriving in Abuja, Idikwu wrote about his encounter with Agada on Facebook. 
"As I laid on my bed in the hotel room, the experience and Mr Ben's picture kept recurring in my head. I decided to share it to inspire someone on my Facebook page." 
Idikwu wrote about the journey and the lessons he got. He wrote of how, in the midst of hardships, someone – a commercial driver can intentionally bring happiness to others. 
Idikwu's gesture to share that rare travelling experience on social media went viral, spurring over 1,800 reactions and 764 shares.
According to Idikwu, Nigerians began messaging him for the driver's contact details. They wanted to reward him for being kind to his passengers.
"I wasn't expecting such an engagement. I just did what I did, to share a story of kindness and compassion, you know, to encourage people to do ordinary things in extraordinary ways, but when a lot of people started asking for his details (which I didn't have) I decided to make the sacrifice of getting them,"
On October 17, 2023, Idikwu travelled from Gwagwalada to Area 3 of Abuja to get the driver's details. He spent 3,000 Naira for transportation.
Idikwu told Agada of the situation, encouraged him to keep it up, took pictures, and posted his contact and bank details on Facebook. 
The single act affected Agada's finances positively.
"He has been getting favours, receiving cash donations since then. The company he works for even promised to give him a new Bus. He calls me often to thank me for putting his story online…"
He further revealed that because of the prevalence of scams in Nigeria, he got snarky remarks from a few persons who believed the story to be fake. They are of the opinion that the story is an arranged strategy to manipulate and steal from Nigerians.
However, he was not troubled because he knew it was not a scam. Even as he was not willing to get a share of the cash donations given to Agada.
He disclosed he was convinced that Agada was being encouraged to continue being a selfless driver. 
When Prime Progress reached out to the benefactor (Benjamin Agada), he said it is always his desire to have his passengers relax and feel happy while on a trip.
He disclosed that it was not his first time being nice to his passengers; it has been his habit and nature has decided to smile at him through Idikwu.
 "The truth is that I have been doing this for years. I feel happy when my passengers are happy. For me, I would say that God felt it was time to favour me. That one journey changed my life,"