By Cynthia Rotich
In a cosy workshop in Eldoret in western Kenya, Jackton Onyango Otieno, a down-to-earth, 62-year-old mushroom expert, is completely engrossed in the delicate art of preparing a proper mushroom substrate. Around him is huddled a group of eager youths, taking in his every word.
Judging by the regular smiles, Otieno's energy and passion for sharing his expertise is infectious, and he finds joy in sharing his expertise and nurturing the next generation of mushroom enthusiasts. Despite the sense of happiness in the workshop, however, there's a severe deadly reason why Otieno is keen to disseminate his knowledge as widely as possible.
"Mushroom growing plays a crucial role in promoting food security because mushrooms are a nutritious source of food that can be grown quickly and efficiently. They require minimal space and can be a very lucrative venture if done well," Otieno explained.
In 1986, Otieno embarked on a journey to build a wider mushroom industry in Kenya by co-founding Eldoret Mushrooms, a pioneering enterprise in the mushroom business. From there, he played a role in establishing other active mushroom farms around Kenya, with Eldoret, historically a farming town, now a focal point for mushroom farming, or myciculture, in the country.
"Over 35 years ago, I was a farm hand at a mushroom farm in Eldoret, and this is how I got introduced to the art of mushroom growing. From there, I have worked with several other farms all over the country, and this is how I got to master the skill of mushroom growing," Otieno explained.
Otieno now also oversees multiple profitable mushroom production cycles at the University of Eldoret in a project he helped establish in 2018.
According to Otieno, while mushroom farming in Kenya can be profitable, farmers need to gain the necessary knowledge and skills and apply the proper cultivation techniques to maximize profitability.
Mushroom farming can play a crucial role in promoting food security because mushrooms are a nutritious source of food that can be grown quickly and efficiently, he said. They require minimal space and can be lucrative if the venture is well managed.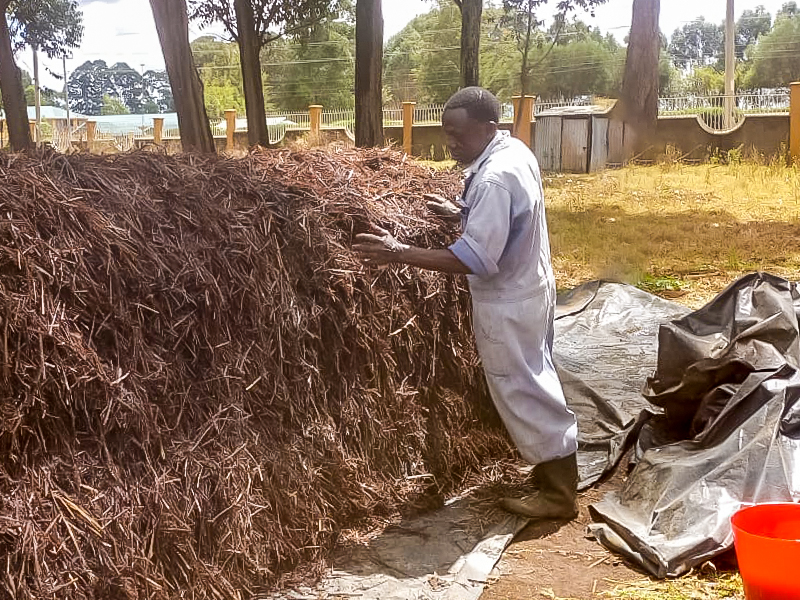 "Mushroom growing is a very delicate process. It is important to seek professional help before starting the venture. The most crucial steps is the preparation of substrate and temperature monitoring in the grow houses. Farmers who invest in learning about best practices, proper cultivation techniques, and market trends are more likely to experience higher profitability," he explained.
With agronomic conditions ideal for cultivating various types of mushrooms, Kenya is well-positioned to produce enough mushrooms to meet local demand and for export.
"Mushrooms are versatile, and the good news is that they can grow in any part of the country. The main conditions mushrooms require to grow are a reliable water supply, shelter and stable temperatures ranging from 15 to 30 degrees. Button mushrooms are the most popular in Kenya because people like consuming them," Otieno shared.
According to a survey by the National Farmer Information Service (NAFIS), Kenya produces 500 tonnes of mushrooms yearly against an annual demand of 1200 tonnes. Due to the deficit, Kenya has to import from other countries like Rwanda, which has a significant presence in the sector.
Otieno's mission is to empower young people in Kenya by teaching them how to grow mushrooms, enabling them to become self-employed and prosperous farmers. His impact goes beyond teaching the skill of mushroom cultivation. He has partnered with various youth empowerment organizations, such as the Enable Youth Kenya Program, to reach a wider audience and provide comprehensive training to aspiring farmers.
Kipkogei Chemitei, coordinator for the Enable Youth Program and also a mushroom expert, has worked with Otieno and has been able to witness his input in the industry.
"In addition to contributing significantly to the University of Eldoret's mushroom production program, he has mentored numerous regional mushroom growers, earning recognition as the foremost authority in mushroom production. Mr Onyango plays a pivotal role in training young mushroom growers through the ENABLE Youth program, where he serves as a consultant and facilitates the dissemination of mushroom production knowledge," Chemitei said.
According to Otieno, mushroom farming is very lucrative, and the capital required to start is relatively low.
"You do not need a big piece of land to start growing mushrooms. You only require a small indoor space, like a spare room, to start production. I encourage the youth, especially, to tap into this venture because you can be a (Kenya shilling) millionaire in just two months," he explained.
"With a quarter of an acre, it is possible to harvest over 1000 kilograms of mushrooms in one harvest. A kilogram of mushrooms in Kenya costs up to 600 shillings [about US$40]," he added.
Over the years, Otieno has successfully trained and guided more than 200 young individuals, many of whom have gone on to establish their own mushroom-farming businesses. These young entrepreneurs have found financial success and experienced personal growth and fulfilment through their newfound skills.
Janet Chepkoech, a mushroom farmer from Eldoret, graduated from Otieno's mushroom school. Otieno taught her the skill of mushroom cultivation, and she's been able to benefit financially from it.
"Jackson has really changed my life. Thanks to his teachings, I have started growing and selling fresh button mushrooms from my farm in Kapsoya, Eldoret. I can't thank him enough for the financial benefits I've gained from this skill and the way he has been able to introduce me to this lucrative venture in agriculture," she said.
"I am optimistic that I will become a successful mushroom farmer in the future. Jackton's teachings have instilled in me a sense of confidence and a belief in my abilities. I'm excited for the journey ahead and the possibilities that lie in cultivating mushrooms," said one of his students, Douglas Mutwiri.
With Otieno's guidance, the would-be entrepreneurs are learning the techniques of cultivating different varieties of mushrooms, ensuring high-quality produce.
"There is need to teach more people how to earn money through this venture because the mushroom demand in Kenya is still very high. My goal is to demonstrate how much potential the mushroom industry has," Otieno concluded.
bird story agency